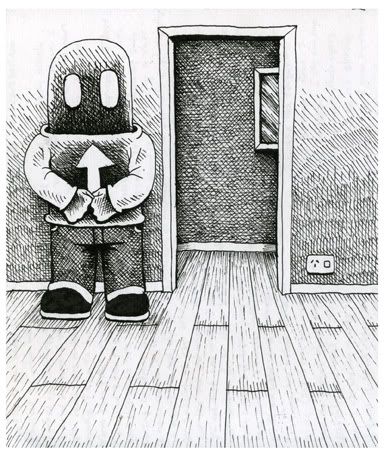 This week's topic for Illustration Friday (See sidebar) was B&W which is an area I'm fairly familiar working in. One of the hardest things about B&W is the shades or grey tones, as things can be hard to differentiate and too flat if you don't use them; as with everything there are always exceptions but those mostly work in combination with colour.
I guess with digital copiers and scanners these days it's easier to get shades by using inks, water colour, or pencils, but this is hard to pull off well. I feel this is because the illustration looks like it should be colour but was printed in B&W. (Two artists that do achieve grey tones with this method successfully I think are, Charles Adams and Quentin Blake.)
Sometimes 'zipatone' dots can be more effective because it looks as though it was always intended for B&W, and therefore not substandard. And with photoshop or some other simular program there's no more cutting and pasting (which can also be a downfall, as it can lead to excessive reliance it)
See David Colliers 'Frank Ritza papers' for a good example of using grey tones successfully.
The other way to get shading which is by far the hardest to make it look right is cross hatching (My preferred method) I use cross hatching because you can do it then and there. If you're out and about and you see something you want to draw, I don't wan't to wait untill I get home and scan it in. I don't want to bring a set of watercolours either, I want to capture it then and there.
I guess the biggest problem with cross-hatching is that it can add too much texture. The drawing starts to look too much like the introduction to 'Cheers' or the walls of the 'Pancake kitchen'. The sort of have that olden day charm due to the same techniques that used for reproducing newspaper illustrations.
Also there's a little trick I learned in photoshop a year or two ago for cleaning up B&W art. I really used to pull my hair out with the whole process but if you scan in at the right resolution and file type (I usually go with 300 dpi TIFFs if I'm not enlarging) and use this little tool the results can be successful.
(Please forgive me if this is obvious for most but this took me years to stumble upon)
One of the problems with scanning in B&W artwork is that upon opening after scanning the white is has a tinge of grey and the black looks more like a weak charcoal. So how do you fix this…
My little trick is to take the tick out of the 'contiguous' box on the top tool bar which is after 'tolerance' and the 'anti-aliased' box on the paint bucket tool. What this does is to turn not just the selected and joining areas to your selected colour (White or Black in this case) but every simular area too. This is really handy for a detailed picture or one with a lot of cross hatching So usually (I didn't use this technique on this illustration) I choose the paint bucket tool, have the tolerance set at the default of 32 (this can be lowered for a more subtle effect) and then make sure the tick is out of the contiguous option. I then choose white from the paint box and click on the area that should be bright white. Then I choose black and click on what should be black. Sometime you might need to zoom in and see how this has worked you might need to choose white again and click on any light grey areas, which are usually pencil marks (For this I sometimes change the tolerance down to something like 11)
Now all you smart alecks might say why not just use the contrast option (Image>Adjustments>Brightness/Contrast) well I feel as if this isn't really accurate enough, and can change the quality of the lines. At least with my method you can check on the lines as you go, to see if they're not changing and distorting too much.