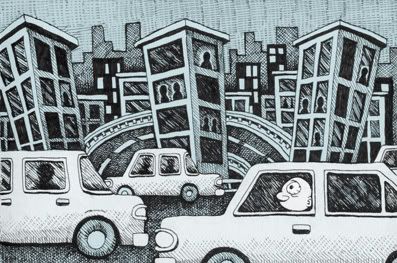 This weeks theme was perfect for a picture I'd been meaning to do for awhile now. I did a version of this in lino cut, but I wanted to see how the same idea would come out in pen and ink. This took me awhile thus I'm late posting for this week.
I just returned form a two day trip to Melbourne. I hit most of the hotspots, Minotaur, Sticky &Polyester. Didn't get to Outre' though. Nothing much new in Minotaur, thought they'd have the latest Johnny ryan (A.Y.C) which is good for laugh. There was another Jeffery Brown book I'd never seen before though. Also stocked some more comics there and the guy was weird about it...I've been putting comics in there for around 7 years now and over the last year I've been in there really frequently stocking this series of Scrambled. I guess they get all sorts in there so who knows.
Polyester still has a heap of my comic as I stocked them with 20 instead of my usual 10 so i didn't have to go in as much (So go there if you want one) But I also stocked a few more in Sticky as well (Also some '7 pages digest' of which most copies have already gone). So there shouldn't be any problems getting a copy for now.
It's good to get away but I'm so used to my routine at home it can be overwhelming, everyone looks funny and all I can smell on the trains and trams are urine smells and wafts of farts...The mood in on the public transport was strange too, everyone seemed a bit more alert or concerned and there were groups of cops out in force, guess people think we might get bombed like London...
Also Polyester had the new Crumb Handbook for $30 so I couldn't help but cash in some of my credit and buying it. A lot of it I've already seen or got but it does have some new stuff in there, and the written parts by Crumb are a good read also. Haven't had a chance to listen to the C.D yet. I'd have to agree with him that it's strange that the fine art world is suddenly in love with him, it doesn't make sense to me. It makes me believe more and more to just make the art and leave the theory to those who care. I get so sick of trying to justify that I like to draw...It's too complicated and many faceted to get into here.