So this is what all the cartoonists have been up to, busy contributing to anthologies maybe. Well this looks like what I'm hungering for. Also there was another one on the site that sounded good, 'Beg the Question' I think I'm going to have to start shopping somewhere other than Minotaur for comics if they don't start getting new stuff in. Although I did see copies of that mineshaft mag I came across on the web recently for $15 but I was on a tight comics budget so maybe next time.
From the Fantagraphics website: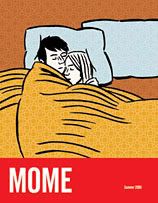 MOME 1
For the new millennium, there is Mome. Designed by acclaimed designer and cartoonist Jordan Crane, this quarterly book will spotlight a regular cast of a dozen of today's most exciting cartoonists. Though virtually every cutting-edge literary journal these days has flirted with comics, Mome is the first all-comics literary anthology. Like R. Crumb's legendary Zap anthology, Mome features the same collective of artists every issue, allowing the artists and audience to grow together and build an ongoing identity that is highly unusual for the world of contemporary comics. The first volume of Mome features the following: John Pham's (Epoxy) "221 Sycamore Street", Paul Hornschemeier (Mother Come Home and Forlorn Funnies) contributes a six-part graphic novella titled "Life with Mr. Dangerous.", Anders Nilsen's (Big Questions) "The Beast" is a full-color, 12-page absurdist monologue by a single character on the push-and-pull of art and politics, Jeffrey Brown (Clumsy, McSweeney's) contributes an autobiographical piece, David Heatley (McSweeney's) contributes the first of a series of fictional stories revolving around a cast of characters in a town called "Overpeck" (also the name of the strip) that follows a bizarre dream logic, Andrice Arp adapts a Japanese fairy tale called "Jewels of the Sea.", Kurt Wolfgang examines death, Gabrielle Bell examines the existentialism of the dot-com boom, Jonathan Bennett dances with the Ventures, and Sophie Crumb (Belly Button Comix) delivers a piece of comics biography. With cartoons by Martin Cendreda. Whew!
136-page color and B&W softcover $14.95
And care of johhnyryan.com (Which you need to also check out)
Some cartoons
http://www.brightredrocket.com/godhates/index.html
And some food for thought:
http://www.illegal-art.org/index2.html
I think i have satiated my comics appetite for now...